Nelson is a respected speaker and is sought out across the world for his specialist knowledge and inspirational delivery.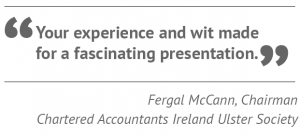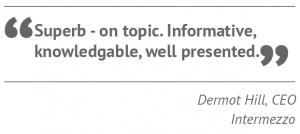 Nelson has been a key note speaker at Angel Investment Conferences around the world; he also speaks on Setting up & Running Business Angel Groups & Networks, Economic Development in specific regional bases; Investment Funding and Managing Companies. If you would like to talk to Nelson about engaging him for a conference or other speaking event, please do get in touch by completing your details on the contact page.
Below are some examples of Nelson's presentations to conferences and groups, across the world, over the past few years;
Development Bank of Jamaica, 2nd Annual Venture Capital Conference, "Putting the Caribbean on the Global VC& PE Map, – size, sustainability and alliances", Kingston Jamaica, September 2014;
"Exiting companies: stories (success and failure) and strategies", Italian Business Angel Network XV Convention, Milan, June 2014;
Key-note speech, "Vision on the European Business Angel market and cooperation in angel financing", Dutch Business Angels Day, Utrecht, June 2014;
Presentation on International Angel Investment Overview, 2014 MENA Angel Investors Summit, Bahrain, June 2014;
Presentation on building Angel Investor Networks, for the World Bank Middle-East and North Africa (MENA) region conference – "How-to of Technology Acquisition, Innovation and Entrepreneurship" Conference, Istanbul, May 2014;
"Angel Co-Funds, Are they working? Lessons for Asian Countries", Asian Business Angel Forum, Hong Kong, May 2014;
Innovation Fund for Competitiveness of the Regional Government of the Bío Bío Region, Chile, Executive Briefing Private Equity Venture Capital, Encouragement of Business Angels, April 2014;
"Co Investment Funds", Angel Capital Association Summit, Washington, March 2014;
World Bank, Washington, presentation on "Angel investment – policy and practice, how to build a thriving angel investment ecosystem", March 2014;
Opening Key Note for the US Angel Capital Association, International Exchange conference, San Francisco, April 2013;
Potential Application of Equity Crowdfunding to Life Science Start-Ups, BioVentures conference, Edinburgh, January 2013;
Speech on " The Contribution of early stage investing to nation's economy" during the Conference "Perspectives for development of the Venture Capital market in Poland", November 2012;
Series of training events on "Strategic Investing" for Angels in New Zealand, November 2012;
Key Note for New Zealand National Angel Conference on International Trends in Angel Investing, November 2012;
"Government support in stimulation of business angel investment in Europe" VII Innovation Congress, V Astana Economic Forum, Kazakhstan, May 2012.