Why be an Angel Investor?  
Angels are genuinely interested in helping businesses to grow. They're not only prepared to take risks, but actively seek out high risk opportunities, as these represent the best options for exceptional returns. While of course one day they want to get a significant return for their time and financial investment, they may work with a business through several rounds of finance and for many years, helping to build value, before exiting.
Why do Angels Invest?
Angel investing is not for every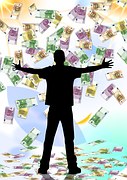 one. It can be highly rewarding financially and personally, but takes courage and commitment since it's very risky – around 70% of Angel investments are written off. Just 9% of all investments made provide 80% of all financial returns. Understanding how to invest effectively, and having a properly constructed investment strategy are essential. These take both training and practical experience to achieve.
Potential Business Angels need to ask themselves what they  want from their Angel activities; is it just a high financial return or is personal satisfaction their key driver?  Reviewing whether they can afford to lose all of their investment and how much time they can realistically spend in deal sourcing, due diligence, negotiation and other process activities are prerequisites to successful Angel Investing.
Research has identified that the key motivators for Angel investors are: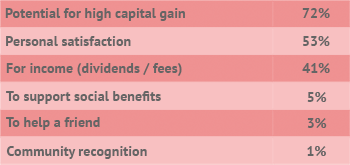 Colin Mason/Richard Harrison