Nelson Gray is well known by other Business Angels as an experienced international presenter, educator and mentor who "has been there and got the t-shirt" several times over.
He is a member of Angel Investment Groups in Scotland and the USA and was European Business Angel of the Year 2008. He has made over 30 personal investments in new and developing companies from a wide sector base. He has shared and applied his learning from his business angel life with individuals and groups internationally as well as with governments and global organisations such as the World Bank.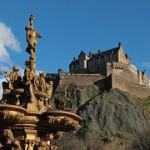 His present portfolio includes a manufacturing company with a turnover of £15m, two bio-med organisations (one which attracted follow on funding of $65m, the other £17m) and an oil and gas technical business (co-invested by ConocoPhilips & Statoil).
He has completed the business angel lifecycle multiple times and his profitable exits include Vibtech (trade sale), TSL (AIM), Optos (main market), and imSense (trade sale).